Otra tandita de confirmaciones para el Arenal Sound.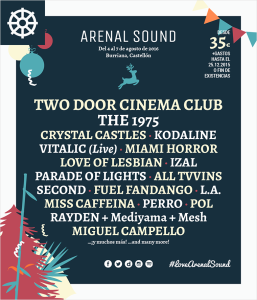 The 1975 ya demostraron en el BBK hace dos ediciones de lo que eran capaces y ahora vuelven con segundo disco debajo del brazo y nosotros deseando disfrutar de Chocolate o Sex.
Miami Horror, Miss Caffeina,  Perro y Pol son el resto de nuevos nombres para la edición de 2016.
Estos nombres se unen a los ya confirmados Two Door Cinema Club, Love Of Lesbian, Kodaline, Izal, All Tvvins, Fuel Fandango o LA.
Los abonos siguen a la venta desde 35 euros y el festival, que se celebrará en Burriana, tendrá lugar entre el 4 y el 7 de Agosto de 2016.