Entradas con la etiqueta 'acusticos'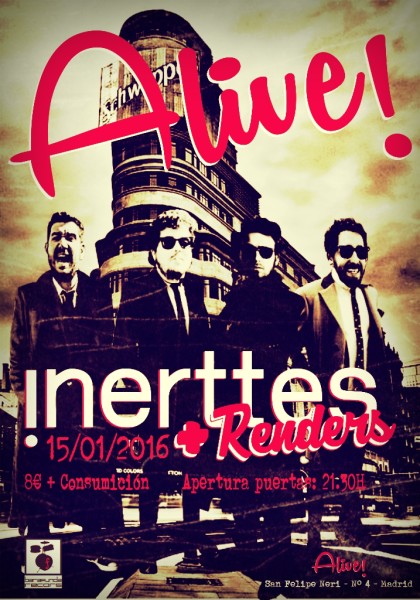 Inerttes regresarán a Madrid un año después de su último concierto. Esta vez para actuar en un formato más acústico en la Sala Alive Music. La banda interrumpe la grabación de lo que será su próximo disco, producido por el ex Pirata Paco Serén,  para mostrar un adelanto de sus nuevos temas. La cita tendrá lugar el día 15 de enero a las 21:30, la entrada son 8 euros con consumición. Estarán acompañados por la banda de electro-rock Renders.
Tal y como te anunciábamos ayer con nuestra entrevista, hoy te ofrecemos el video íntegro del acústico que nos brindaron Bel and the Boy: 'Best not to say it' Disfrútalo!!
LosLunesNoExisten tuvimos el placer de entrevistar a Belén Arjona y John Lanigan en su nuevo proyecto Bel and the Boy. No te pierdas el video con nuestra entrevista, te enterarás de todos los detalles sobre el proyecto!
Mañana mismo publicamos el magnífico acústico de Best not to say it.