Lugar: Ciudad Deportiva Guillermo Amor (Benidorm)
Fecha: 25, 26 y 27 de Julio de 2014
Grupos Confirmados:
Vetusta morla, The Hives, Love Of Lesbian, The Magician, Los Campesinos!, Iván Ferreiro,The Horrors, SebastiAn, Cheatahs, John Gray, The Parrots, Carlos Sadness, Baralides,DJ Coco, Elyella DJs, Ochoymedio Festivals Your Kaiser Chiefs, Corizonas, Blood Red Shoes, Pony Bravo, MØ, The Suicide Of Western Culture, Modelo de Respuesta Polar, Jack Knife, Empty Bottles, B Flecha, Alizzz, Sidonie, Second, El Columpio Asesino, We Are Standard, Niños Mutantes, Izal, Leon Benavente, Belako, The Free Fall Band, Tuya, La Habitación Roja, Triángulo De Amor Bizarro, money for Rope, Editors, Xoel López, Paus, Refree, Pájaro, Holy Ghost, Oso Leone
Precio / Venta de entradas:
Abono de 3 días,67€
VIP, 100€
VIP Pool 135€
Entrada de día desde 38€
Info útil:
Playa, buen ambiente y un cartelón, esas son las características de Low Cost Festival.
El Low es uno de esos festis que te dan la opción de pillar un abono vip. Si puedes permitírtelo, ni te lo pienses, ya no el hecho de estar tirado en el césped y poder disfrutar de bebida más barata y grada para ver los conciertos en el escenario principal, sino por el puro placer de ir al baño sin esperar cola.
El acceso al escenario principal es algo complicado, así que si tienes pensado estar en las primeras filas en alguno de los conciertos que allí se dan, ve con algo de tiempo.
Entre unas horas no se puede salir del recinto, ya que si sales no podrás volver a entrar hasta que pase ese tramo.
Y por unos euros más tienes hasta piscina en la que se dejan caer incluso los artistas.
Conecta tu pulsera 3.0 y a disfrutar del Low!!!
Horarios: 
proximamente
Web oficial: www.lowcostfestival.es
.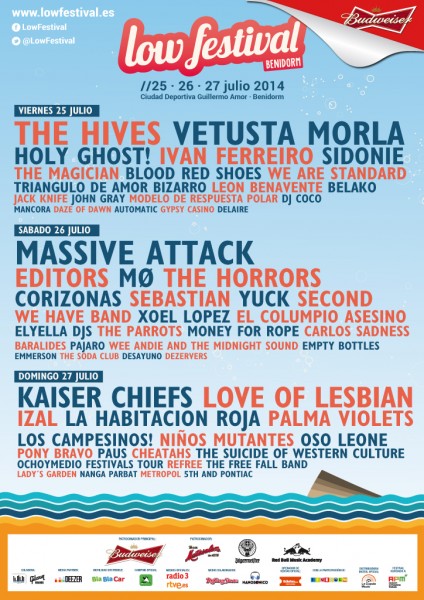 .