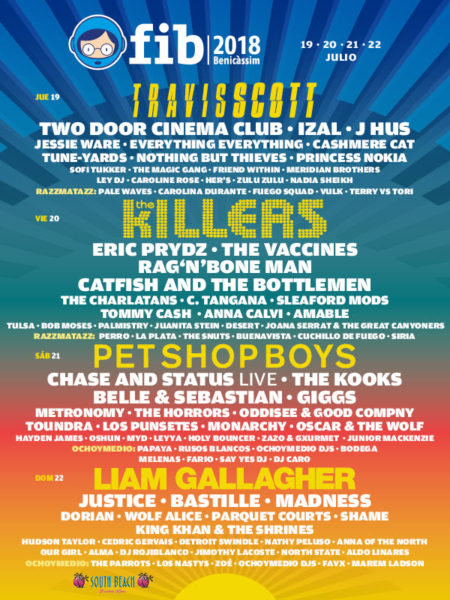 Con las nuevas incorporaciones el FIB cierra su cartel para este verano.
C Tangana, Los Punsetes, Bob Moses y Tulsa son algunos de los nombres que se unen al festival de Benicassim.
Éstos se suman a los antes confirmados The Killers, Liam Gallagher, Catfish And The Bottlemen, The Vaccines, Pet Shop Boys, Travis Scott, Two Door Cinema Club o Izal en una edición que promete grandes momentos.
El festival ha dado a conocer la distribución por escenarios:
Escenario Las Palmas:
JUEVES 19: TRAVIS SCOTT, TWO DOOR CINEMA CLUB, J HUS, NOTHING BUT THIEVES. LEY DJ, CAROLINE ROSE.
VIERNES 20: THE KILLERS, ERIC PRYDZ, THE VACCINES, CATFISH AND THE BOTTLEMEN, ANNA CALVI, JUANITA STEIN.
SÁBADO 21: PET SHOP BOYS, CHASE AND STATUS LIVE, THE KOOKS, LOS PUNSETES, HOLY BOUNCER.
DOMINGO 22: LIAM GALLAGHER, JUSTICE, BASTILLE, MADNESS, SHAME, HUDSON TAYLOR.
Escenario Visa:
JUEVES 19: IZAL, JESSIE WARE, EVERYTHING EVERYTHING, TUNE-YARDS, CASHMERE CAT, THE MAGIC GANG, ZULU ZULU.
VIERNES 20: RAG'N'BONE MAN, THE CHARLATANS, SLEAFORD MODS, C. TANGANA, TULSA, JOANA SERRAT & THE GRAND CANYONERS, AMABLE.
SÁBADO 21: BELLE & SEBASTIAN, GIGGS, METRONOMY, THE HORRORS, TOUNDRA, OSCAR & THE WOLF, JUNIOR MACKENZIE.
DOMINGO 22: DORIAN, WOLF ALICE, PARQUET COURTS, KING KHAN & THE SHRINES, OUR GIRL, DJ ROJIBLANCO.
South Beach:
JUEVES 19: PRINCESS NOKIA, SOFI TUKKER, MERIDIAN BROTHERS, FRIEND WITHIN, HER'S.
VIERNES 20: TOMMY CASH, BOB MOSES, PALMISTRY, DESERT.
SÁBADO 21: MONARCHY, ODDISEE & GOOD COMPNY, OSHUN, HAYDEN JAMES, MYD, LEYYA, ZAZO & GXURMET.
DOMINGO 22: CEDRIC GERVAIS, DETROIT SWINDLE, ANNA OF THE NORTH, NATHY PELUSO, ALMA, JIMOTHY LACOSTE, NORTH STATE.
Fib Club:
JUEVES 19: PALE WAVES, CAROLINA DURANTE, VULK, TERRY VS TORI, FUEGO SQUAD, NADIA SHEIKH.
VIERNES 20: PERRO, THE SNUTS, LA PLATA, CUCHILLO DE FUEGO, SIRIA, BUENAVISTA.
SÁBADO 21: RUSOS BLANCOS, PAPAYA, BODEGA, MELENAS, FARIO, OCHOYMEDIO DJS, DJ CARO, SAY YES DJ.
DOMINGO 22: THE PARROTS, LOS NASTYS, ZOÉ, FAVX, MAREM LADSON, OCHOYMEDIO DJS, ALDO LINARES.
Además se lanza la APP en la que dentro de poco podremos ver los horarios de la nueva edición del FIB que se celebrará entre los días 19 y 22 de julio.